Approx. $1200-$1500 per/week Stunning Two Bedroom Apartment Close to Darling Harbour with Parking
Pyrmont- MIR03 Pyrmont Street
Air Conditioning
Balcony
Cook Top
Dishwasher
Full Kitchen
Ironing Board
Laundry Facilities
Linen Provided
Lounge Room
Microwave
Pool
Stove
TV
Wireless Internet
This large fully furnished two-bedroom apartment is in a great central location. Close to shops, restaurants, cafes and public transport all conveniently located at your doorstep. The apartment is walking distance to the fish markets and Sydney's popular Darling Harbour. 
It's a large open plan light filled apartment with an adjoining sunroom which is great for reading or to sit back and relax. 
The building has a communal rooftop BBQ area with spectacular view, great location to watch the Saturday night firework display. 
The apartment also includes an internal laundry and parking space with access to the indoor swimming pool, spa, gym, roof top BBQ. 
Stays of 5 nights or more, 
with some properties having minimum 3 or 6 month requirements. 
Utility contribution charges apply. 
A complimentary welcome pack includes a number of single use items to get you started including tea, coffee, sugar, milk, snacks, soap, laundry and dishwashing supplies. 
This fully furnished property includes quality amenities and every convenience to ensure you enjoy a comfortable 'home away from home'. All linen is included in the rental rate. Serviced cleaning is available on request and a departure cleaning charge applies to all bookings. 
Please contact the office to check availability. Contact Phone Email 
Reviews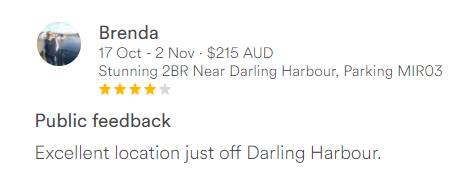 Thursday, November 2, 2017
Excellent location just off Darling Harbour.

A terrific apartment in a brilliant location. We didn't have a car so didn't need the garage but appreciated the lovely swimming pool! Large, clean, spacious, well equipped and very nice to stay in. Description completely accurate, service excellent. Thanks Keris.

Monday, September 25, 2017
Absolutely excellent location. Comfortable and spacious and equipped with everything for a home away from home.

Tuesday, September 19, 2017
A great place to stay can't recommend it highly enough

Saturday, September 9, 2017
This place was perfect for our stay. It is minutes away from Darling Harbour and many cafes and restaurants in Pyrmont. I was able to walk everywhere that I needed to be. The apartment was clean and spacious. Check in couldn't have been any easier. I highly recommend this place.

Saturday, September 2, 2017

Number of clean linens and towels! All types of kitchen things you can use! At one point i thought that there might be a kitchenaid somewhere :D. Location is great. Management company is great. Car garage is exteremely useful if you are renting. Loved this place!
Super convenient access to Darling Harbour, the Sydney Fish Market, and many parks. Nearby light-rail and buses, as well as Ferry access from Pyrmont Bay and Barangaroo. Great apartment, would consider staying here again on future trips.

My colleague and I stayed in a Sydney apartment via Airbnb and The Apartment Service provided the details for the stay. It was an easy pick up of keys and information from a local business to access the unit and we had a very comfortable stay. 
There was a bath mat missing in one bathroom but that's all i can say that was a negative from our stay. Convenient location for our conference, clean and good size.
Would happily use them again.

Perfect location! 2-3 minutes walk to Sydney Fish Market where can taste freshly seafood and easy to buy daily items from Cole market where just next 2 street s away. Easy explore to Darling Harbour, Sydney Eye Tower, Queen Victoria Building, etc. by walk through pyrmont bridge.

We had a great experience staying with Keris. Everything was explained clearly before check in and a great central location.

Great location. Very tidy and good space.

Fantastic unit. AS shown in The picture. As a Former sydney siders, i have to say this is one of The most convenient location for either Business or holiday. Thx for The Professional Service. Much appreciated. Til next Time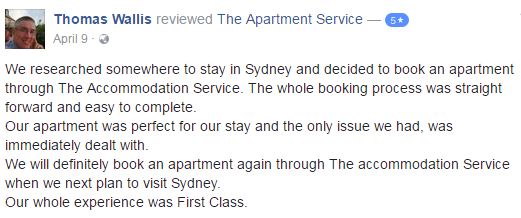 We researched somewhere to stay in Sydney and decided to book an apartment through The Accommodation Service. The whole booking process was straight forward and easy to complete. 
Our apartment was perfect for our stay and the only issue we had, was immediately dealt with. 
We will definitely book an apartment again through The accommodation Service when we next plan to visit Sydney. 
Our whole experience was First Class.

Quiet stating but close to restaurants, attractions and transport links. Super comfortable apartment. Spotlessly clean.

Thursday, February 9, 2017
The stay was very enjoyable. The apartment has all the comfort and convenience and the location could not be better. Super recommend for those who want to enjoy a beautiful walk.

The over all experience was great, from the moment we got the keys to we left ill be coming back for sure Best location in Sydney and unit is fantastic thank you

Wednesday, September 21, 2016
Josip met us on arrival as planned and was very accommodating considering we weren't sure of our arrival time. The welcome pack was a nice touch and the apartment was beautifully presented as described. Great location, only 700m to Darling Harbour and ferry services. Will definitely recommend as a great place to stay.

The unit was just as described, clean and in great condition. Communication with the host was excellent, they even express mailed the keys so that we could have them already upon arrival. Location was good since our friends were across the street at the Crowne center. If you're looking to spend more time in the city center then it's a bit of a walk or take Uber. The tram is right outside the building but if you don't have a card as we didn't then you need to walk across the bridge where the free tram begins. 
Would stay here again.