Approx. $1100-$1400 per/week City Central Location to Everything Sydney Has To Offer
Sydney- CL405 Bridge Street
Air Conditioning
Dining Area
Dishwasher
DVD Player
Full Kitchen
Ironing Board
Laundry Facilities
Linen Provided
Lounge Room
Microwave
Pool
Stove
TV
Wireless Internet
This great 2 bedroom apartment is as central as it gets. Located in the centre of the city, only minutes walk from all of Sydney's great sites such as the Sydney Opera House, The Sydney Conservatorium of Music & Circular Quay. 
Your apartment, located in the historic heritage listed Cliveden building, boasts high ceilings & a newly renovated common room. The Cliveden also has a fantastic rooftop pool, which will provide a relaxing atmosphere. 
With all your modern conveniences provided, this is truly your "home away from home". 
Property Features - 
Sleeps 4 
1 Queen bed 
2 Single beds 
Stereo 
Level 4 
Minimum stays of 5 nights or more with some properties having minimum 3 or 6 month requirements. 
Utility contribution charges apply. 
A complimentary welcome pack includes a number of single use items to get you started including tea, coffee, sugar, milk, snacks, soap, laundry & dish washing supplies. 
This fully furnished property includes quality amenities & every convenience to ensure you enjoy a comfortable 'home away from home'. All linen is included in the rental rate. Serviced cleaning is available on request & a departure cleaning charge applies to all bookings. 
Please contact the office to check availability.
Reviews

Fabulous location, great sized apartment with all mod cons, good value for money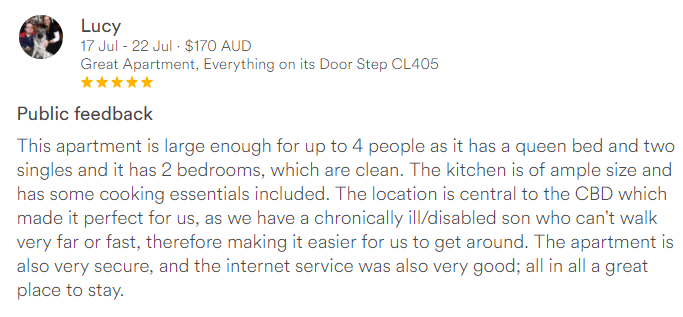 This apartment is large enough for up to 4 people as it has a queen bed and two singles and it has 2 bedrooms, which are clean. The kitchen is of ample size and has some cooking essentials included. The location is central to the CBD which made it perfect for us, as we have a chronically ill/disabled son who can't walk very far or fast, therefore making it easier for us to get around. The apartment is also very secure, and the internet service was also very good; all in all a great place to stay.

Wednesday, March 29, 2017
Great location 3 blocks from Circular Quay. Clean and comfort.

Wednesday, March 22, 2017
Exceptional location, perfect for family with two children, only downside, noisy at night as work on adjacent street.

Friday, February 24, 2017
Great place, great location!

Saturday, February 18, 2017
A great Apartment in a great location. Everything you need is here, the common parts of the building look a little tired but the flat is comfortable and very well located. The only downside, which the host cannot influence, is the work taking place on George Street installing the new light rail system. This work is being done at night and can be a little noisy. I wouldn't let that put you off as everything else is great, but it may be an issue for young children or light sleepers

Wednesday, February 8, 2017
This apartment is very central - 5 minutes walk to The Rocks and Circular Quay, and 10 minutes walk from Pitt Street Mall. There is also a convenience store a few steps away from the building entrance, which came in very handy. The apartment is beautifully equipped, and a welcome pack provides any small extras you might need. The air-conditioning is fabulous, especially during hot days! The beds are very comfortable and the linen is high quality. For people with young children it's great to have a bath tub as well. This apartment has everything you need to have a comfortable stay. The only I would say is to check on the progress and timing of the light rail construction on George Street, as it is very noisy. Otherwise I would highly recommend this apartment.

This appartment is in a fabulous location everything is so close and easy to get to, we had 2 teenage kids with us and all felt safe in the appartment and out on the street, there are fantastic restaurants and market food, bars everywhere it's a lovely short walk to the opera house area the botanical gardens and the city shopping. It was clean and bright with a nice pool on the roof, the only let down was the bathroom is very small and the little things that you expect would to be provided such as salt pepper a roll of toilet paper, sponges an extra tea towel etc are not However there are plenty of quality towels and spare linen provided The appartment has a very good air conditioning system and the beds are very comfortable
Tuesday, November 15, 2016
We had a wonderful time in Sydney in every way, superb dining, still savouring the memories, excellent sightseeing, the apartment worked out brilliantly, quiet, clean, perfect for our needs, in a great location in it's proximity to Circular Quay with all it's forms of transport to anywhere in Sydney, plus cafe's, restaurants, supermarkets and shopping. We were met on time on arrival at the apartment our host allowing us earlier entry than listed as well as a later departure time to suit our incoming and out going flights which we really did appreciate. Any issues were dealt with efficiently as per 11 light bulbs which were out and needed changing. Thanks so much for a lovely stay, we'd definitely book the apartment again. Warm regards Leonie

Saturday, October 29, 2016
This place was in an awesome location and looks just like the pictures! the kitchen was well equipped and it was great having a washer/dryer too. We felt very safe there and were within walking distance to everything! our host made us feel very welcome and we would recommend this to other travelers for sure!

A really convenient place that close to Circular Quay. We can find everything on George Street like supermarkets, malls and restaurants. The place is well set with all equipments for cooking and cleaning like home. I do love staying there.

Five star location right in the heart of the CBD. Clean, convenient and great value. Will book again.